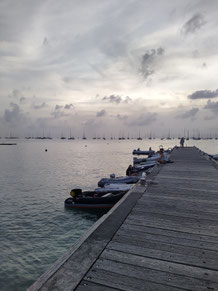 Wir haben unsere Pläne geändert und alles in die Wege geleitet. Wir werden Montag in mehreren Etappen Richtung Trinidad segeln, dort werden wir die FRIENDSHIP in der Power Boats Marina an Land stellen und einige Reparaturen und Verschönerungen vornehmen lassen. Wir sind nur zu zweit, daher möchte ich nur tagsüber segeln. Außerdem können wir so noch einmal unsere Lieblingsinseln besuchen. Wir haben noch einen Tag auf Bequia eingeplant und werden wohl auch noch mal ein paar Tage auf Grenada verbringen. Dort müssen wir wahrscheinlich nochmals einen Test für die Einreise nach Trinidad machen.
Für unsere Törns im Mittelmeer konnten wir Ersatzboote chartern.
Wir haben jetzt einen Termin für unseren PCR-Test am Montag gebucht, gecheckt, dass wir auch hier ins St. Anne ausklarieren können und genießen jetzt noch einen netten Abend in der Bar...
We have changed our plans and put everything in place. We'll sail towards Trinidad in several legs on Monday, where we'll put the FRIENDSHIP ashore in the Power Boats Marina and have some repairs and embellishments carried out. There are only two of us, so I only want to sail during the day. It will also give us a chance to visit our favorite islands again. We have planned another day on Bequia and will probably also spend a few days on Grenada. We will probably have to take another test there to enter Trinidad.
We were able to charter replacement boats for our cruises in the Mediterranean.
We have now booked an appointment for our PCR test on Monday, checked that we can also clear out here in St. Anne and are now enjoying a nice evening in the bar...
Marion