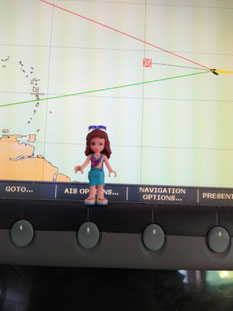 Wir haben auf jeden Fall die Hälfte hinter uns - mehr als die Hälfte! Auch wenn das Wetter wunderschön ist - Sonne satt und wenig Wind - ist es eben kein Segelwetter, laut Rainer. Ich halte es für fast optimales Segelwetter....
OK, die Zeit fängt an sich zu ziehen und meine Ängste sind zur Zeit schlimmer, jede Welle, jedes Knarzen macht mich nervös. Ich möchte nicht, dass die anderen das merken, aber meine Anspannung überträgt sich natürlich - aber ein klärendes Gespräch hat dann die Wogen geglättet. Jetzt müssen wir - und vor allen Dingen ich - uns ein wenig zusammenreißen, jeder hat eben seine Probleme...
Trotzdem: Best Life Ever!!!
We're definitely halfway there - more than halfway! Even if the weather is beautiful - plenty of sun and little wind - it is not sailing weather, according to Rainer. I consider it to be almost optimal sailing weather....
OK, time is starting to drag on and my fears are worse at the moment, every wave, every creak makes me nervous. I don't want the others to notice, but my tension is naturally transferred - but a clarifying conversation then smoothed things over. Now we - and above all I - have to pull ourselves together a little, everyone has their problems...
Nevertheless: Best Life Ever!!!
Marion