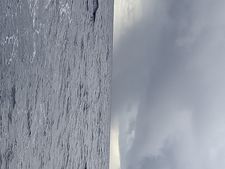 Je näher wir dem Ende kommen, desdo öfter sehen wir Squalls. Allerdings haben wir wirklich wahnsinnig Glück gehabt, wir sehen Squalls, aber tatsächlich in einen hinein geraten, sind wir nur dreimal oder so, und die waren eher harmlos und sehr kurz.
Was wirklich erschreckend war, war eine Nacht, in der rund um uns herum Gewitter und Wetterleuchten zu sehen waren. Wir sind wie in einer Blase gefahren und konnten die Blitze und Donner beobachten. Die Faszination ist unglaublich, aber die Angst fährt da die ganze Zeit mit - schaffen wir es, ohne dass uns die Gewitter näher kommen? Wir haben es geschafft...
Wir sind jetzt fast da - so langsam rückt auch das Feld wieder näher zusammen. Die ersten Yachten sind schon in St. Lucia angekommen, wenn es doch bei uns auch schon so weit wäre... 
The closer we get to the end, the more we see Squalls. However, we were really lucky, we saw squalls, but we only actually got into one three or so times, and they were rather harmless and very short.
What was really frightening was one night when there were thunderstorms and lightning storms all around us. We drove in a bubble and were able to watch the lightning and thunder. The fascination is incredible, but the fear is there the whole time - can we make it without the storms getting closer to us? We made it...
We're almost there now - the field is slowly getting closer together again. The first yachts have already arrived in St. Lucia, if only we were already that far...
Marion