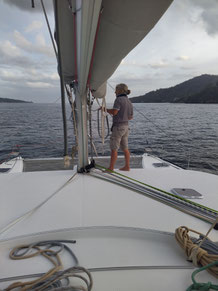 Wir sind da! Ich hatte vorher schon ein wenig Bedenken, aber es hat alles gut geklappt - also fast alles... Wir hatten montags den Test und wollten noch ausklarieren, der Test war kein Problem, aber das Büro in St. Anne war leider ab diesem Tag für 2 Wochen geschlossen - Urlaub. Also ist Rainer mit dem Dinghi zurück nach Le Marin gefahren, um uns auszuklarieren. Das Wetter war nicht so optimal, aber wir haben das Beste draus gemacht. Am nächsten Tag sind wir früh los und auch gut durchgekommen. Wir haben dann mit dem Health Office in Bequia telefoniert, dass es etwas knapp werden könnte, aber das war kein Problem. Wir waren auf die Minute zum Feierabend da und die Dame hat uns unsere Freigabe noch gebracht bzw. bringen lassen - alles war gut. Am nächsten Tag haben wir dann erfahren, dass wir für Grenada keinen Test benötigen und konnten so unseren Tag in Ruhe genießen.
Am kommenden morgen sind wir um 05.30 Uhr losgesegelt und hatten einen tollen Segeltag. Wieder war es etwas knapp bei der Ankunft, aber auf Grenada haben die Beamten dann lieber pünktlich Feierabend gemacht. Sie wollten am kommenden Morgen um 09.00 Uhr wieder im Büro sein, also haben wir den Termin für unseren PCR-Test auf 10.30 Uhr gelegt. Tja, hat auch mehr oder weniger geklappt, nur der Kollege von Customs brauchte dann doch etwas länger, also ist Rainer erst nach dem Test dorthin - das zieht sich dann doch immer alles.
Wir haben dann noch einen kleinen Stadtrundgang in St. George's gemacht und einfach den Abend nett ausklingen lassen.
Heute morgen sind wir dann wieder um 05.30 Uhr losgesegelt und hatten wieder einen tollen Segeltag, jetzt ist es 17.30 Uhr und wir bereiten uns darauf vor, an einer Boje anzulegen. Freue mich schon auf den Sundowner...
We are here! I was a little worried beforehand, but everything went well - almost everything... We had the test on Monday and wanted to clear out, the test was no problem, but unfortunately the office in St. Anne was closed for 2 weeks from that day - vacation. So Rainer took the dinghy back to Le Marin to clear us out. The weather wasn't ideal, but we made the best of it. We set off early the next day and made good time. We then phoned the health office in Bequia to say that it might be a bit tight, but that wasn't a problem. We were there at the very end of the day and the lady brought us our clearance or had it brought to us - everything was fine. The next day we found out that we didn't need a test for Grenada, so we were able to enjoy our day in peace.
The next morning we set off at 05.30 and had a great day sailing. Again it was a bit tight on arrival, but on Grenada the officials preferred to finish work on time. They wanted to be back in the office at 09:00 the next morning, so we set the appointment for our PCR test for 10:30. Well, it more or less worked out, except that the colleague from Customs took a little longer, so Rainer didn't get there until after the test - it always drags on.
We then went for a little walk around St. George's and just let the evening fade away nicely.
This morning we set off again at 05.30 and had another great day sailing, now it's 17.30 and we're getting ready to moor at a buoy. I'm already looking forward to the sundowner...
Marion