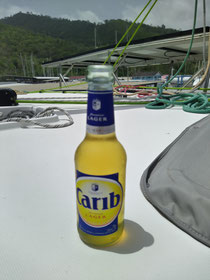 Wir sind jetzt seit einer Woche an Land und gewöhnen uns so langsam an den neuen Rhythmus. Hier auf Trinidad ist es viel schwüler, als auf den anderen Inseln, d.h., spätestens ab 11.00 Uhr ist es so heiß und schwül, dass man nicht mehr körperlich arbeiten kann. Wir haben in direkter Nähe zu unserem Boot einen Internetroom mit Klimaanlage, da kann man sich dann gut aufhalten und arbeiten. Auch die Arbeiter in der Werft kommen früh zur Arbeit ( so gegen 6.00 Uhr morgens) und machen dann Pause oder arbeiten in klimatisierten Räumen.
Wir hatten jetzt schon einige Handwerker da: Segelmacher, Bootsbauer, Elektriker, Mechaniker, etc. Jetzt müssen wir nur noch auf die Angebote warten und entscheiden, was wir alles machen lassen.
Die Werft ist wirklich gut organisiert und viele Yachties scheinen sogar hier zu leben. Wir finden uns so langsam in die Gemeinschaft ein: donnerstags BBQ, freitags Jam-Session, samstags Essen gehen und sonntags Domino.... Naja, wir sind eigentlich nur beim Essen und Trinken dabei...
We've been ashore for a week now and are slowly getting used to the new rhythm. It's much more humid here on Trinidad than on the other islands, which means that it's so hot and humid from 11 a.m. at the latest that you can no longer work physically. We have an internet room with air conditioning right next to our boat, so it's easy to stay there and work. The workers in the shipyard also come to work early (around 6.00 a.m.) and then take a break or work in air-conditioned rooms.
We've already had a few craftsmen here: sailmakers, boat builders, electricians, mechanics, etc. Now we just have to wait for the quotes and decide what we want to have done.
The boatyard is really well organized and many yachties even seem to live here. We are slowly becoming part of the community: BBQ on Thursdays, jam session on Fridays, eating out on Saturdays and dominoes on Sundays.... Well, we're actually only there for the food and drink...
Marion