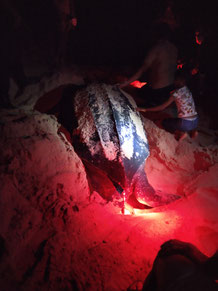 Nachdem wir jetzt fast 3 Wochen hier sind, haben wir es endlich geschafft, einen Ausflug zum Schildkrötenstrand zu organisieren. Wir haben darüber schon viel gehört und donnerstags beim BBQ haben die anderen davon erzählt, aber der Veranstalter kriegt es nicht zusammen, daher haben wir uns jetzt mit einem anderen Päarchen zusammen organisiert und einen anderen Veranstalter aufgetan.
Die Autofahrt ist wirklich etwas lang, aber es hat sich gelohnt. Wir haben mehrere Lederrücken-Schildkröten gesehen, wie sie an Land gehen wollten, aber dann wieder umgedreht haben. Es muss alles stimmen und wenn zu viel Algen am Strand liegen, dann drehen sie wieder ab, da es zu zeitintensiv wäre, da hinüber zu klettern.
Nach einem kurzen Spaziergang haben wir dann tatsächlich eine Schildkröte gesehen, die mitten in der Eiablage war - beeindruckend! Allein die Größe (im Bild kann man das erahnen) ist enorm. Die Schildkröte gräbt mit ihren Hinterflossen ein ca. 1,5 m tiefes Loch und legt dann um die 100 Eier, danach wird das Nest wieder zugeschüttet und verdichtet. Für die ganze Aktion haben die Schildkröten ca. 5 Stunden Zeit, danach geht ihnen der Sauerstoff aus. Die Tiere reagieren empfindlich auf Licht, daher haben wir alle eine Rotlichtlampe erhalten (käuflich erworben), das irritiert die Schildkröten nicht. Ein wirklich tolles Erlebnis!
Now that we've been here for almost 3 weeks, we've finally managed to organize a trip to the turtle beach. We've heard a lot about it and on Thursdays at the BBQ the others have been talking about it, but the organizer can't get it together, so we've now organized ourselves with another couple and found another organizer.
The drive is really long, but it was worth it. We saw several leatherback turtles trying to go ashore but then turning back. Everything has to be just right and if there is too much seaweed on the beach, they turn back as it would be too time-consuming to climb over there.
After a short walk, we actually saw a turtle in the middle of laying its eggs - impressive! The size alone (you can see it in the picture) is enormous. The turtle digs a hole approx. 1.5 m deep with its hind flippers and then lays around 100 eggs, after which the nest is filled in again and compacted. The turtles have about 5 hours for the whole process, after which they run out of oxygen. The animals are sensitive to light, so we were all given a red light lamp (purchased), which does not irritate the turtles. A really great experience!
Marion