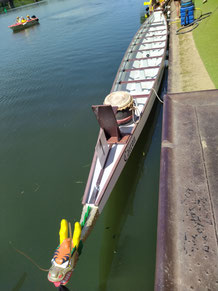 Wir können einfach nicht ohne Wasser... Dieses Wochenende haben wir uns mit Freunden in Ladenburg zum Drachenboot-Rennen getroffen. Das Wetter ist super und auch die Stimmung ist toll, denn das Drachenboot Event konnte wegen Corona die letzten 2 Jahre nicht statt finden, wie so viele andere Events auch. Gestern Abend waren die Vorläufe in den verschiedenen Klassen und am Abend fand noch die Prämierung des besten Kostüms statt, später startete dann die Beachparty - ein rundum gelungener Einstand. 
Heute finden die Finals statt, wir haben noch bis mittags die Rennen verfolgt, sind dann aber vor den letzten Rennen zurück gefahren, da in Weisbach das Brunnenfest stattfindet und wir auch dort noch vorbei wollen. Partystress halt...
We just can't do without water... This weekend we met up with friends in Ladenburg for the dragon boat race. The weather is great and the atmosphere is also great, because the dragon boat event could not take place the last 2 years due to Corona, like so many other events. Yesterday evening the heats in the various classes took place and in the evening the award ceremony for the best costume took place, later the beach party started - an all-round successful debut. 
The finals take place today, we watched the races until midday, but then drove back before the last races because the Brunnenfest is taking place in Weisbach and we wanted to stop by there too. Just party stress...
Marion