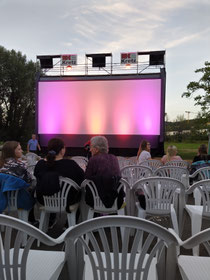 Wir haben einen tollen Abend im Open-Air Kino in Mosbach erlebt. Wir haben uns gemeinsam mit Rainers Eltern "Monsieur Claude und sein großes Fest" angesehen und wieder mal herzlich gelacht! Die Franzosen wissen einfach, wie man auch schwierige Themen auf leichte Art verarbeiten kann. Wir haben uns auf jeden Fall super unterhalten gefühlt und hier und da auch mal nachdenklich an die eigene Nase gefasst....
Ein toller Abend - das hätten wir eher wissen müssen, das war die letzte Aufführung für dieses Jahr.
We had a great evening at the open-air movie theater in Mosbach. We watched "Monsieur Claude and his big party" together with Rainer's parents and laughed heartily once again! The French simply know how to deal with difficult subjects in a light-hearted way. In any case, we felt really entertained and here and there we thought about our own noses....
A great evening - we should have known that earlier, it was the last performance of the year.
Marion