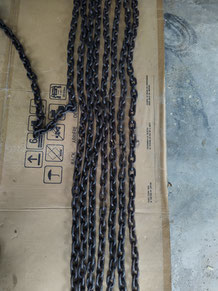 So soll die Ankerkette dann später aussehen - 15 m sind geschafft - nur noch 85 m...
Aber das Wetter macht uns dann doch immer wieder einen Strich durch die Rechnung. Die Kette muss trocken sein bevor ich sie mit der Drahtbürste bearbeite, im nächsten Schritt wird sie dann mit Rostumwandler gestrichen und dann muss der Anstrich ca. 3 Stunden ruhen. Nach 48 Stunden ist dann alles gehärtet. 
Da die Kette leider außerhalb des schützenden Rumpfes aufbewahrt wird, wird diese regelmäßig bei unseren Regenschauern nass. Und wenn es so richtig heftig regnet, muss ja gar nicht so lange sein, halbe Stunde reicht, dann fließt auch ein kleines Bächlein unter dem Boot her und ich darf dann wieder Pause machen...
This is how the anchor chain should look later - 15 m are done - only 85 m to go...
But the weather keeps throwing a spanner in the works. The chain has to be dry before I work on it with the wire brush, the next step is to paint it with rust converter and then the paint has to rest for about 3 hours. After 48 hours everything is hardened. 
As the chain is unfortunately stored outside the protective hull, it regularly gets wet in our rain showers. And when it rains really heavily, it doesn't have to be that long, half an hour is enough, then a small stream flows under the boat and I can take a break again...
Marion