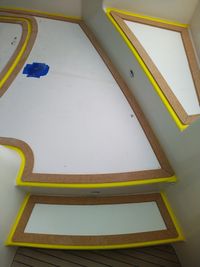 Eigentlich sollte unser Kork von SEACORK bereits letzte Woche geliefert werden, aber leider war eines der Pakete auf dem Weg von Frankreich nach Trinidad irgendwo "hängen" geblieben, so kam unsere Lieferung mit einer Woche Verspätung an und hat unseren Zeitplan durcheinander gewirbelt...
Aber jetzt geht es in Riesenschritten voran! Die ersten Rahmen für den Korkboden liegen bereits und werden Morgen verklebt; wenn alle Rahmen gesetzt sind, werden die Streifen verlegt, danach die "Fugen" gezogen (gecaulkt) und dann muss noch alles angeschliffen und versiegelt werden - OK, dauert noch einen Moment...
Our cork from SEACORK was actually supposed to be delivered last week, but unfortunately one of the packages got "stuck" somewhere on the way from France to Trinidad, so our delivery arrived a week late and messed up our schedule...
But now things are progressing in leaps and bounds! The first frames for the cork floor are already in place and will be glued tomorrow; when all the frames are in place, the strips will be laid, then the "joints" will be made (caulked) and then everything will have to be sanded and sealed - OK, it will still take a moment...
Marion